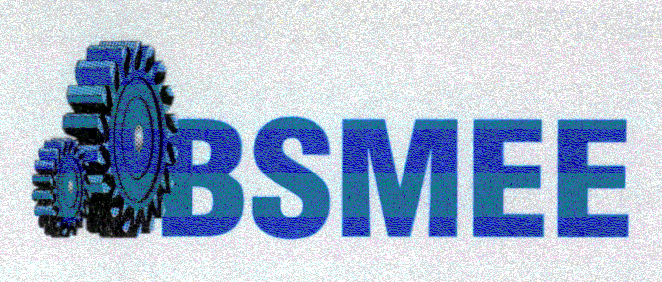 European Journal of Mechanical Engineering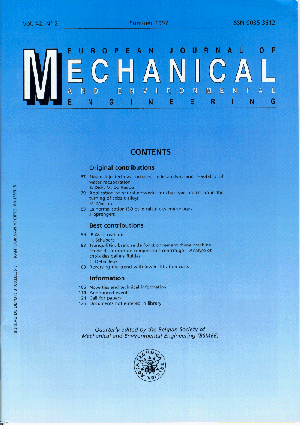 The European Journal of Mechanical and Environmental Engineering (EJMEE) originally called M review and more recently European Journal of Mechanical Engineering, is an important channel of information.
Subscription
Belgium: 100 €
Abroad: 125 €
BSMEE member: free

Price per copy: Belgium: 40 &euro, Abroad: 50 €

For subscriptions, contact BSMEE (cf. homepage for contact information).
Contents
The journal comprises technical-scientific articles, reviewed by an internationalboard but also practical articles and technical or scientific information in the field of mechanical engineering, mechatronics and environmental engineering.

The journal also comprises new books reviews, call for papers, and invitations to continued education cycles organized by universities or other institutions.
Periodicity
The EJMEE is issued 3 or 4 times per year, depending on the number and quality of available articles.
Instructions for contributors
Scope: Original scientific contributions related to mechanical and environmental engineering are welcome. More technical papers can also be accepted. Due to the nature of BSMEE, papers should be readable by standard mechanical engineers and deep mathematical developments should be avoided.

Submission: Papers should be electronically submitted in PDF format to Prof K. Karri, the editor. The length of the manuscript, illustrations included, should not exceed 6 pages. The paper will be written according to the template, which is available in the following formats
LaTeX: download this archive including the source file, the style package, and the resulting pdf file
Microsoft Word: download doc file (Office 1997/2003 format)
Language: Papers should be written in English and the spelling should conform to that of the Oxford English Dictionary.
Style and illustrations: Follow the instructions given in the template.
Copyright: Only original papers will be considered for publication. It is the responibility of the authors to obtain written permission from copyright holders to quote material which has appeared elsewhere. No papers will be published without the copyright transfer.
Offprints: Five copies of the journal issue in which the paper appears will be provided free of charge to each author. Additional offprints may be purchased at the time of submission of the final manuscript.
Last issue
Issue 2010-2
Contents of some previous issues
Please note that the publication of the European Journal of Mechanical Engineering has been suspended from 2004 to 2007.

2010-1 Special issue: Robotics
2009-4 Special issue: Environmental testing engineering ETE'2009
2009-3
2009-2
2009-1
Fall 2008
Spring 2008
Winter 2003
Fall 2003
Summer 2003
Spring 2003
Winter 2002
Summer 2002
Spring 2002
Winter 2001
Fall 2001
Summer 2001
Spring 2001
Winter 2000
Spring 1998
Summer 1998
Winter 1997
Fall 1997

Editorial board
Chairman: Prof. Y. Baudoin, Royal Military Academy (BE)

Editor: Prof. K. Harri, Royal Military Academy (BE)

Members

Prof. P. Dehombreux, Faculté Polytechnique de Mons (BEL)
Prof. B. Donnay, ISIL Liège (BEL)
Prof. P. Kool, Vrije Universiteit Brussels (BEL)
Prof. B. Lauwers, Katholieke Universiteit Leuven (BEL)
Prof. J.-C. Samin, Université catholique de Louvain-La-Neuve (BEL)
Prof. S. Vanlanduit, Vrije Universiteit Brussels (BEL)
Prof. O. Verlinden, Faculté Polytechnique de Mons (BEL)

Scientific committee
Prof. M. Armada, CSIC-IAI, Madrid
Prof K.Berns, University of Kaizerslautern
Prof. C. Bostater, Florida Institute of Technology
Prof. E. Dick, Universiteit Gent
Prof. I. Doroftei, Technical University of Iasi
Prof V.Gradetski, Institue for Problems in Mechanics, Moscow
Prof J.-C. Golinval, Université de Liège
Prof. B.-R. Höhn, TU München
Prof. B. Kiss, Budapest University of Technology
Prof. P. Kopacek, HUT Vienna
Prof. M. Maly, ME Institute of Technical University of Liberec
Prof A. Maslowski, Technical University Warschau
Prof. R. Molfino, Genova University
Prof. G. Muscatto, University of Catania
Prof P.Regtien, University, Twente (NED) Ir M.J. Sprengers, President ISO/TC60
Prof. Hakan Torstensson, CEEES
Prof. R. Van den Braembussche, Von Karman Institute
Prof A. Winffield, University of Bristol
Dr Karl-Fridrich Ziegahn, Forschungzentrum Karlsruhe